REGULATORY COMPLIANCE: Short term pain for long term gain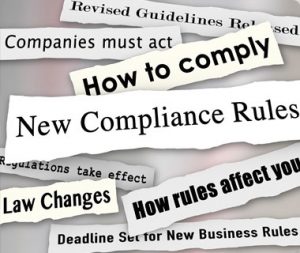 With the current economic realities in Nigeria, it is evident that most organizations cannot withstand regulatory punches – yet, myriads are incessantly falling victims of such.
In 2015/2016 alone, regulatory tides were against large corporations that were fined over N1billion due to compliance infractions. This bodes poorly for companies that do not have the wherewithal to weather such storms, as they eventually watch their businesses crumble.
It has been said over and again that organizations should pay attention to laws, regulations, guidelines and specifications relevant to their operations, to avoid legal punishments such as astronomical fines.
It will be recalled that MTN was fined with $5.2 billion by the Federal Government through the Nigerian Communications Commission (NCC) for not meeting the deadline set up by Mobile Network Operators (MNOs) for disconnecting Subscribers Identification Modules (SIM) with improper registration.
What followed was resignation of top officials and a rapid fall in value of the company's shares. Although the fine was subsequently reduced to $3.2 billion, MTN is still nursing its wounds.
Nigerian tax laws are the most defaulted of all regulations, especially by organizations that are oblivious of them. Thus, effective management of tax regulations, such as transfer pricing, Value added Tax & Personal Income Tax compliance requirements, will go a long way in keeping a company safe from shackles of regulatory fines.
Research has shown that most startups and SMEs in Nigeria are operating without registering their businesses. Recently, the National Agency for Food, Drug Administration and Control (NAFDAC) shut down a supermarket; Ford Mart in Karu, Abuja for operating an unregistered bakery. Also, most companies are not aware that there are guidelines for approving appointment of Managing Directors, CEOs and Directors of Dealing Member Firms.
It is no secret that some companies knowingly evade regulations, or look for loopholes to capitalize on. As it stands, it is increasingly evident that recent actions of regulatory agencies are beginning to reflect an atmosphere that may have changed considerably in coming months.
For defaulting organizations, the consequences of non-compliance can be on the high-side and usually, the fate suffered at the hands of regulatory authorities trickles down to the lowest rung of the business chain.
Going by the numbers, there is no mystery behind the big fall of many blue-chip companies; it's either poor risk management or compliance fines. While some are still chugging along nicely, smaller organizations are seriously grappling with their finances.
Against this backdrop, it is pertinent to note that compliance with regulatory standards can be a walk in the park with due diligence or services of solution providers who are equipped with compliance management software such as Laser Compliance System. This solution is embedded with up-to-date compliance data and help companies save cost and effectively crystalize profits.
The investment we put into governance, risk management and compliance may be substantial, but the savings that result from it today ensures that over the long run, we save and earn more".
Judging from the foregoing, it is safe to say that effective compliance is material to the overall performance of an organization. This suggests a strong momentum for companies to start taking regulatory compliance more seriously, as non-compliance will put a dent on their operations causing serious reputational damage.
While some companies have weathered the storm of regulatory fines quite well by emerging 'unscathed', others have kissed their businesses goodbye.
Do not be left out of the companies ensuring that the new risk appetite for compliance is zero tolerance to non-compliance. Protect your business Comply Today!!!