Risk managers, CIBN partner on certification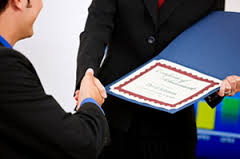 FROM next year, the Risk Managers Association of Nigeria (RIMAN), partnering the Chartered Institute of Bankers of Nigeria (CIBN), will be awarding Risk Management Certification to practitioners and others aiming to build a career in the field.
This followed the signing of an agreement to that effect by the President of RIMAN, Dr. Gregory Jobome, and CIBN President, Mrs. Debola Oshibogun, during the association's 15th Annual National Conference/AGM in Lagos on Wednesday, ending two years of groundwork on the scheme.
Jobome said that key steps were already in place and that the programme would certainly save cost for the country and the participants, as people would no longer need foreign certification in that field.
Similarly, Oshibogun noted that CIBN has run the programme with foreign partners and that doing so in Nigeria would save a lot of costs and strengthen the industry by benefitting a lot more people.
Meanwhile, Jobome told the conference in his welcome address that banks and other institutions fail basically because of governance failure. However, he stressed that risk management guards against such failure through salient decisions on a company's risk culture, where every decision counts.
He noted that banks have to contend with derivatives, outsourcing and energy risks, among others, unlike in the past when it was basically credit risk. For efficiency in their jobs, therefore, he tasked practitioners to pursue relevant certifications that meet the demands of their institutions and regulatory requirements.
Equally, the keynote speaker and Managing Director/ Chief Executive Officer of the Nigerian Deposit Insurance Corporation (NDIC), Umaru Ibrahim, stressed that risk is at the heart of banking business and unless well managed, the cost is huge.
Ibrahim, represented by Babatolu Oladipupo, condemned corporate governance abuses, stating that effective risk management must be understood and well communicated.
He tasked banks on environmental sustainability issues, which determine how business is run, and the threats that arise when compromised, regretting that some banks still hugely depend on public sector funds.
In her address, the guest speaker, Oshibogun, said the theme of the conference, "Governance and Risk Management: The Way Forward," was apt because of the significant plunge in the global economy and the harsh business environment.
Effective governance, she said, provides the structure for best practices, independent of personal interest. She advised organisations to focus on achieving growth within the risks attendant to their operations, warning that the "absence of connection between governance and risk management presents dire consequences."
Therefore, organisations that must overcome and post profits must embrace risk management, as investors, especially foreigners, are interested in companies with good governance.
Speaking on the synergy between the environment of business and risk culture, Oshibogun agreed that benevolence does intervene in risk management but warned that it must be guided against derailing the code of corporate governance.
On her part, the Director, Xpert Consulting, UK, Dr. Edna Ijeoma Stan-Maduka, in her presentation on "Global Overview of Governance and Risk Management," said that corporate governance is about the strategy in risk management, which fails if there is no collaboration with the board on risk function and corporate governance.
According to her, a company without a robust governance structure cannot pass in risk management. She stressed that the risk manager and the corporate governance team must work together, as the success of corporate governance depends largely on risk management.
More so, she warned that as the environment of business becomes more fused globally, the risks at different points of each transaction must be in focus else the company is exposed to serious threat.
Perhaps a major risk that is being undermined is people, including employees, who throw up a wide dimension of unknowable risks, malicious behaviour inclusive. She noted that while known and unknown risks are increasing and are inevitable, some are not conceivable but must yet be taken care of when they occur.
Source: The Guardian