Solving Your Business Risks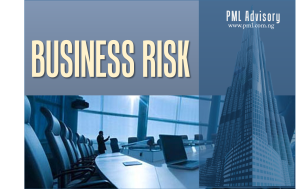 Businesses face a myriad of challenges that leave them vulnerable to many forms of risk, including regulatory, reputational and litigation, among others.
Evolving legal and ethical obligations pose constant challenges to a business and often in-house counsel are on the front lines, facing down obstacles that threaten to impede their clients' business success. But in-house counsel need not feel vulnerable nor alone. Developing and implementing a preventative risk management program – with the help of leading experts – assists businesses in decreasing costs, reducing aggravation and limiting exposure, resulting in enhanced value for shareholders and other stakeholders.
Understanding and following the myriad of evolving legal and regulatory risks is a prerequisite to any effective risk management initiative.
We have the appropriate expertise to design and manage an effective Risk framework for your firm.
visit: www.pml.com.ng
Call: Tel: +234 (1) 4545296,+2347083211740,
E-mail: info@pml.com.ng